THRIVE Framework For Transformation Leaders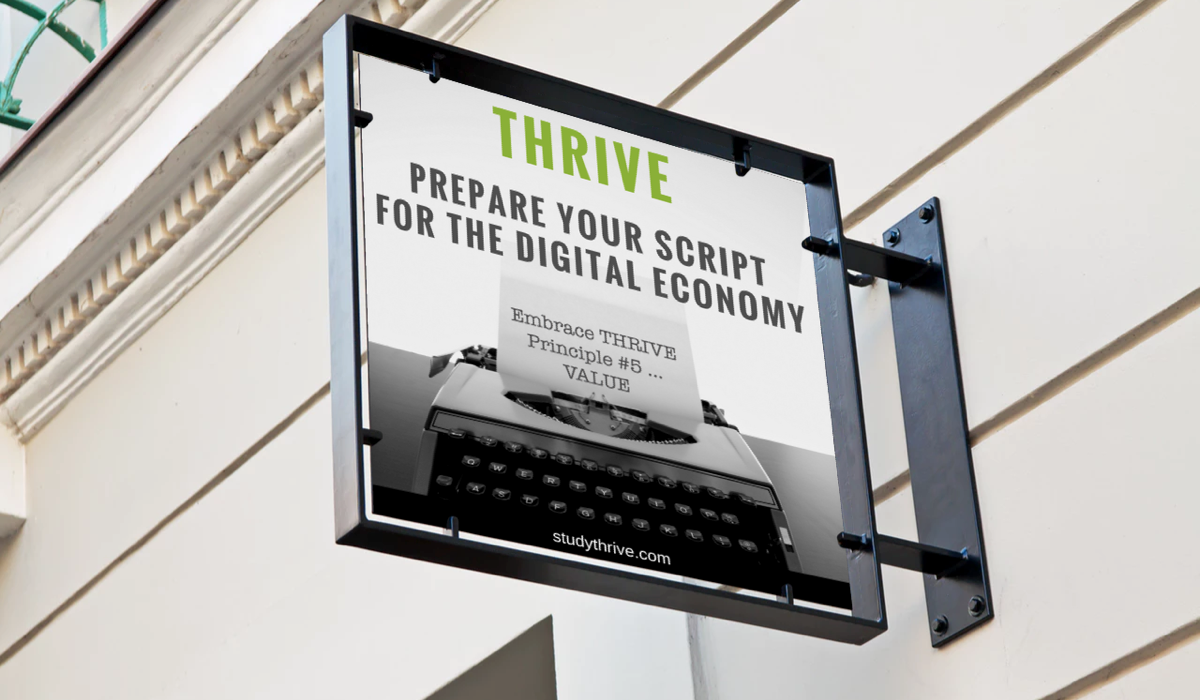 THRIVE is a practical digital business transformation framework, which provides leaders with a body of knowledge and roadmap to help them independently lead their transformation. It serves as a holistic guide to maturing internal capabilities and mindsets, responding strategically and innovatively to market threats and opportunities, delivering new value to the market and satisfying the expectations of internal stakeholders through successful execution.
THRIVE is not related to any one technology or industry. It is a way of thinking of, and approaching transformation from a business perspective. It helps leaders approach business transformation from all angles, and not be blinkered by digital marketing hype or specific technologies.
THRIVE is an acronym made from six words which are:
T: Transformation
H: Holistic
R: Response
I: Innovation
V: Value
E: Enterprise
Guiding Principles of Digital Business Transformation
We know from Stephen Covey that values govern people's behaviour, but principles determine consequences. So in the way that Covey encouraged us to utilise key leadership principles, so THRIVE is intended to encourage leaders to utilise six digital business transformation principles to equip themselves for the digital economy challenge.
The Digital Economy
The digital economy is developing at a phenomenal rate and is the single most important driver of innovation, competitiveness and growth. It is changing our lives, from the way we shop, socialise, and entertain ourselves, to the way we learn, communicate and go about our work.
Traditional industries and value chains of every type are being reshaped by business models that have never existed before, and customer expectations are rising rapidly. There should be no doubt that the digitization of the economy is one of the most critical issues of our time.
The digital economy presents huge potential for solo entrepreneurs, small and medium and large companies, but the majority of firms are not taking full advantage of it. In fact the European Commission has stated on its web site "Unfortunately, only two percent of European enterprises are currently taking full advantage of new digital opportunities".
This is worrying for existing companies when considering the successful adoption of digital technologies will be a key success factor for future growth. The European Commission added, "Businesses that fail to get digitally connected will become excluded from the global market".
No Barriers to Entry
There are no barriers to entry for innovation. The hardware and software that was once limited to those who could create it or afford to buy it is now readily available and affordable to almost any company large or small. Even the sole entrepreneur now has affordable access to technology that was not so long ago off limits to all but companies with healthy budgets.
So with hardware that can be rented, and software that is affordable and sometimes free, only the idea of innovation stands in the way of companies and new business models that can proliferate globally.
This ease at which we can all innovate introduces a new threat to established incumbents, because they now face competition from start-ups that were unable to complete in the pre-digital economy. Start-ups are now a very real threat to many incumbents, all as a result of their ability to complete using digital, and without the expensive assets previously required to do so.
Dollar Shave Club
Just look at how the Dollar Shave Club sliced an eight percent share of the Three Billion dollar global shaving market for itself in less than five years of existence, taking profits from under the nose of the 115 year old global giant Gillette. This would have been impossible in the pre-digital era. But the world has changed and more companies than ever can now compete for market share without many if any, tangible assets.
There are countless other examples of traditional companies with antiquated mindsets getting the warming signs that if they don't respond in a proper manner, they can except to be sent to an early grave.
New Capabilities For Traditional Leaders to Acquire
Let's face it, digital business transformation is not something that most leaders have much, if any, experience in. Which is why there is such a important need for executive leaders and senior managers to understand and adopt the guiding principles of THRIVE.
Regardless of the size or history of a company, the need to digitise and transform is unquestionable. The question on the minds of many leaders now is, "How and what do we transform?" Which is what THRIVE helps you discover, in the context of your own organisation – regardless of industry.